How to Play Slots Online
New to playing slots online? In this guide, our team of experts explain how slots work including looking at what makes a slot game, how they work and the terminology used.
Stakes, Autoplay & Settings
Before you fire up an online slot game, you should consider whether you can afford to play it. The stakes or bet is important as the minimum bet per spin may be out of your price range. Every slot game offers a minimum and maximum stake.
Whilst most players play using minimum stakes, you need to determine what you can afford to play with. Having £10 in total to play slots with and spinning at £1 per spin is not advisable as your bankroll will disappear pretty quickly. Start small and increase the stake if on a winning streak or you've built up substantial winnings.
Playing slots is meant to be fun so don't increase your stake in order to chase losses. Keeping your stake amount low will also ensure your bankroll lasts as long as possible. Adjusting the minimum stake is simple to do too.
Many online slots have a default bet/stake which will be around the £1 or £2 a spin mark. Make sure you change the stake to suit your pocket before you start spinning. If you don't, you could realize after a few spins that your bankroll is gone or seriously depleted.
Newer slot games offer a Feature Buy. Known as Bonus Buy, you can enter the main bonus feature (normally the free spins) by paying a certain amount. In most cases, it's 100 x your total stake. Whilst this can come in handy if the bigger payouts are available in the feature, it's not permitted in the UK due to regulations set out by the Gambling Commission.
A common function is Autoplay. This allows you to spin the reels automatically. Available on most games nowadays, you can set between 10 and 100 autospins normally. The spins just play out without you having to press the button. You can also customise the Autoplay function in a number of ways. This allows you to play more responsibly. They are:
| | |
| --- | --- |
| Number of Autospins | normally between 10 and 100 |
| Balance increase | autoplay stops if you win a certain amount (so you can withdraw winnings) |
| Balance decrease | autoplay stops if you lose a certain amount (so you don't lose more) |
| Stop on feature trigger | autoplay ceases when you trigger the bonus feature |
| On any win | autoplay stops on any winning combination |
| On a single win exceeding | if you hit an amount (like 50 x stake), you can stop it |
All slots will have a settings section. This allows you to customise your playing experience further via a number of ways:
| | |
| --- | --- |
| Quick/Turbo Mode | you can speed up the speed of spins |
| Sound Effects | play with or without sound effects |
| Soundtrack | play with or without a backing track/music |
| Spacebar Spin | spin the reels by using the spacebar key on laptop/PC |
| Graphics quality | use the best possible or low quality graphics depending on internet speed |
Reels & Paylines
A reel is a vertical position on the game which spins and contains symbols. A classic slot has 3 reels and 1 payline. Video slots as they are known normally come with 5 reels whilst more complex slots can have a lot more.
If you take a 5 reel slot game, you will see 5 vertical positions on the game. Each position (or reel), will contain a certain number of symbols.
A payline is the number of ways you can win on a slot game. If you take the example of a 3 reel, 1 payline slot, you can form a winning combination by landing matching symbols across the single payline. With 5 reel slots, there can be 1000s of paylines. It all depends on how many reels appear on each reel.
If that 5 reel game has 10 paylines, it means there are 10 opportunities to land a winning combination. The more matching symbols across the reels, the bigger the payout. Winning combos are normally formed when you get 3 or more matching symbols across a payline, beginning from reel 1.
If you like a classic 6 reel Megaways slot, between 2 and 7 symbols can appear on each reel. Seeing 7 symbols per reel will result in the maximum number of ways to win which is 117,649.
Symbols
On the reels, you will see a certain number of symbols. Getting a certain combination of symbols will result in a win. In classic slots found in Las Vegas for example, symbols include fruits like cherries, plums and lemons. Modern video slots have various types of symbols to match the slot's theme and graphics.
Many casino slots do have royals or card fillers. These comprise of A, K, Q, J, 10 and 9 royals or diamonds, spades, clubs and hearts. Whilst they feature in a lot of games, the graphics and themes are more expressive meaning symbols are customised to the particular slot. If you take NetEnt's Dead or Alive II slot, all symbols have a Wild West feel to them.
There are also wild symbols which can fill in for any other symbol or act like a joker. If you were to get a lemon symbol on reels 1 and 3 with a wild on reel 2, the wild would act like a lemon giving you a 3 of a kind win. This is why wild symbols are very important. However, wilds normally substitute/replace all symbols except scatters or bonus symbols.
Slot Mechanic/Engine
How the reels and paylines reward you depends on a lot on the slot's engine or mechanic. In a classic 5×3 setup with 10 paylines, you will have 5 reels with 3 symbols on each. You will need to land matching symbols from left to right on any of the 10 paylines.
If the slot is an all ways slot, it will have 5 reels and 3 rows but will offer 243 ways to win. This is because matching symbols can land on adjacent reels rather than across paylines. Adjacent reels meaning getting matching symbols on successive reels – i.e. on reels 1, 2 and 3.
Some slots use win both ways pays. This means that winning combinations can start from reel 5 as well as reel 1. The win both ways engine applies in the popular Starburst slot from NetEnt. If you were to get 5 matching symbols across the middle of the screen, you'd benefit from double payouts as you began a win from reel 1 and 5.
Another popular term of scatter pays. This means symbols will pay out even if they don't land on adjacent reels. Many scatter symbols (the ones that trigger the bonus features usually) will pay in any position across any reel. This means you can land a scatter on reels 1, 3 and 4 and get a 3 of a kind win instead of the usual 1, 2 and 3 reels.
A hugely popular mechanic in the last few years is the Megaways engine from Big Time Gaming. As mentioned above, a Megaways slot typically has 6 reels but every reel can have between 2 and 7 symbols randomly on each spin. The more symbols per reel, the more ways to win.
Wild Symbols

Touched on briefly above, wild symbols are the most important kind in modern slot games. Wilds are like jokers in a deck of cards. They replace or substitute for normal symbols to help your comprise winning combinations. If you were to get 2 matching symbols on reels 1 and 2 as well as a wild symbol on reel 3, the wild would act as the matching symbols to give you a 3 of a kind winning combination.
Whilst they perform substituting duties, wild symbols have evolved in recent years. With many types of wild symbols now featuring in online slots, they can give you so much more than just a winning combination. Here are the most common types of wilds you can expect:
| | |
| --- | --- |
| Standard Wild | replaces symbols to give you a winning outcome where possible |
| Multiplier Wild | multiplies the win by the multiplier value – i.e. 3x wild multiplier multiplies win by 3 |
| Expanding Wild | expands to give you a fully wild reel |
| Spreading Wild | spreads in various directions to give you more wilds |
| Random Wild | randomly appears in various positions on the reels |
| Colossal Wild | bigger in size – i.e. 2×2, 3×3 etc (Push Gaming's Fat Rabbit) |
| Replicating Wild | duplicates on other positions on the reels/grid |
| Stacked Wilds/Wild Reels | appear in 1×3 or 1×4 in size normally to occupy a reel fully or partially |
| Locked/Sticky Wilds | remains in place until you get a winning combination or throughout the free spins feature |
Scatter Symbols

Another popular type of symbol found in an online slot is the scatter symbol. A scatter is a special symbol that appears along with regular symbols and wilds. A scatter symbol can be referred to as a bonus symbol or a free spins symbol. This clearly indicated what the purpose of the scatter is.
Acting independently normally, 2 or more scatters will result in a winning combination. However, landing 3 scatters or more normally will trigger bonus features. In some online slots, scatters act as both a trigger for a bonus feature as well as a wild symbol. This is the case in Play 'n GO's Book of Dead slot where the Book of Dead is both the scatter and wild symbol.
More importantly, the scatter is used to activate a bonus feature where a slot's bigger payouts are up for grabs. The more scatters you land, the more free spins you'll typically play with in the Free Spins feature.
Every online slot is different in terms of scatter requirements. Some will require you to get 3 or more anywhere on the reels whilst others will require you to land 3 scatters on reels 1, 3 and 5. You can see how many scatters, and where they need to appear, in the slot's paytable (more on this below).
Bonus Features

Most online slots come with bonus features or bonus rounds. These are games within the slot that give you more opportunities to win. With so many variations, the most common feature is free spins whilst you'll find respins, pick me style games and jackpot rounds.
In order to trigger these bonus features, you will need a certain amount of scatter, bonus or free spins symbols. Other slots require you to get a certain number of consecutive winning spins or to land wilds on specific reels. Find out what you need to unlock a bonus feature is found in a game's paytable.
They are many bonus feature variations available. Here are the most commonly found in online slots:
Free Spins feature: you'll get free spins in order to accumulate as many wins as possible
Pick Me feature: you pick from objects on the screen to win cash prizes
Trail feature: you roll a dice or make picks to work your way around a trail. The further up the trail you go, the bigger the prizes on offer
Jackpot feature: making picks can lead to winning fixed or progressive jackpots
Avalanche Reels/Cascading Symbols: also known as cascading reels, dropdown wins or tumbling reels, a winning combination will see winning symbols removed and replaced by new symbols. This gives you the chance to win again and again from each spin
Gamble feature: you can choose to gamble your win or wins from the free spins
Multiplier Wilds feature: wild symbols with multipliers that appear in a Free Spins feature
Respins feature: a win can lead to respins where new winning symbols are held. The respins continue until you don't any more winning symbols or you fill the reel with a certain symbol for bigger prizes or even jackpots.
Bonus Bet feature: buy your way into the free spins for a fixed price. This is actually banned in the UK due to regulations by the Gambling Commission.
Slot providers are always trying to stand out a create a unique experience for players. This is why a free spins feature can incorporate other features like multiplier wilds, respins, avalanche reels and jackpots for example. The possibilities and combinations are endless making online slots an attractive and enticing proposition for players.
Paytable + Rules
To find out all the elements that make an online slot, you'll find a paytable or rules section. This normally is found by clicking on an 'i', 'Info', 'Paytable' or '?' button on the slot. This will then display all the rules, the number of reels and paylines, the bonus features, symbols, payouts and RTP of a particular slot game.
In the paytable, you can find out exactly what a particular symbol pays or how many free spins you'll play with when you trigger the Free Spins feature.
Important Slot Features to Consider
Now you've learned what a slot game consists of and what you should consider when playing, there are important slot features to take into account when playing slots online. In this section, we look at Return to Player % (RTP) and variance/volatility.
Slots RTP % (Return to Player rate)
What is the Return to Player rate? Also known as RTP, this is the % given back to players from a certain online slot. All casino games have a house edge or margin. The RTP is what is won back. Here's an example of how RTP works for an online slot:
Slot game has 95% RTP
If you were to stake £100, you'd win back £95 on average
The online casino would win £5 (5%) – this is the house edge/margin
You may ask how the RTP rate affects your gameplay. Well, it's significant. If an online slot has a 97% RTP vs one that has a 90% RTP, on average you will win back 7% more from the 97% RTP slot game. These numbers are generic and don't necessarily apply to your individual session.
The RTP is calculated on a slot game over millions or billions of spins. This means you may lose on every spin but over the course of a slot's cycle (normally 1 year), it will pay out the advertised RTP rate. You may be the lucky player who wins but others will lose in order to give out the precalculated RTP rate.
As with all casino games, whether you win or lose is down to luck. If an online slot game paid out all the time, the online casino would lose and the game would be discontinued.
Playing slots online is more advantageous than playing at an actual casino as the RTP % is higher. The RTP for a land-based slot is around the 70% mark on average whilst it's just below 96% online. That's a massive margin/house edge in the casino's favour. So playing IGT's Cleopatra slot in Las Vegas will on average pay between 20-25% less than playing it online.
Another thing to consider is that the same online slot can have different RTP rates. Providers like Play 'n GO have 5 different RTP settings for each of their slot games. Make sure you check the RTP for the game you're playing so you know where you stand. Fortunately, UK slots tend to have the higher RTP rates. As per the UK Gambling Commission, slot machines must make information available about their category, % RTP and whether they are compensated or random.
The RTP needs to be considered for progressive jackpot slots. Part of what you wager will go towards the progressive jackpots meaning the RTP for the actual game (not the jackpot element) is much lower than most online slots. On average between 1 and 8% will go towards the jackpot(s).
Want to find slots with the highest return to player rates? Check out our best RTP slots section which highlights the top 5 and goes into more much details about RTP.
Slot Variance
Slots variance is the risk involved from an online slot game. You'll hear the term 'high variance slot' or 'low variance slot' for example. Slot variance is also known as slot volatility. The variance of a slot will affect the gameplay as well as your potential payouts as it contributes to the frequency of winning combinations.
If you play a high variance online slot, you shouldn't expect many winning combinations. The ones you do get will be smaller in nature. One big win though will compensate for your losses and could give you returns that are substantial.
The variance you prefer depends on your personal preferences as you might opt for a high risk, high reward strategy in the hope of winning big. If you want to maximise your bankroll, a low or medium variance game might be better suited. Here are definitions of a low, medium and high variance slot:
High variance slots: high risk, high reward slots where wins are scarce but can be huge. Experienced players tend to favour high variance slots as they are chasing that big life-changing win/payout. Example: NetEnt's Dead or Alive 2 or Nolimit City's San Quentin
Medium variance slots: medium risk, medium reward games where top payouts can be of a decent amount and wins are fairly frequent. These are well-balanced slots offering a fine line between gameplay and potential payouts. Example: IGT's Ghostbusters Plus
Low variance slots: low risk, low reward slot games that give lots of frequent wins of a smaller size typically. You can win big in these games but it's highly unlikely. These are best if you are new to playing slots online or are looking to play for a longer period of time. Example: NetEnt's Starburst.
Online Slot Types
Now you've learned about how an online slot works and what you need to consider, you then need to decide on the type of slot game you want to play. There are various slot types to choose from with the following the most commonly found:
Classic Slot/Slot Machine: these are the original games which typically have 3 reels and 1 single payline. A win is formed by getting 3 matching symbols across the middle of the screen. You now have modern classic slots which also offer bonus features and extras.
Video Slot: this is the most common type of slot game and normally comprise of 5 reels. Most slots fall into this category and offer bonus features like free spins, wild symbols and scatters.
Jackpot Slot: these are video slots with a progressive jackpot element. This allows players to win jackpots which can reach 7 or 8 figures. A popular jackpot slot is Microgaming's Mega Moolah which paid out a world-record €19.4 million in April 2021.
Megaways Slot: these are slot games using the Megaways engine from Big Time Gaming. On each spin, the number of symbols per reel changes randomly offering you a varying number of ways to win. With a typical Megaways slot game, each of the 6 reels can contain between 2 and 7 symbols allowing for a minimum of 324 ways to win and a maximum of 117,649 ways to win.
Grid Slot: known as Cluster Pays slots, these games don't have a number of paylines or ways to win. Winning combinations are formed by landing clusters of matching symbols (they need to be next to each other). Check out all our grid slots.
3D Slot: these are slots that use 3D technology in their graphics. These allow for a richer and more immersive game experience. An example is NetEnt's Gems of Adoria which was the first from the reputable slot provider.
Mobile Slot: these are online slots that can be played on mobile and tablet devices. With advances in technology, all slot games are mobile these days as they are created using HTML5 technology. As a result, they can played on a wide range of devices that are powered by iOS, Windows and Android amongst other operating systems.
Themed Slot: whilst these games will fall under the categories listed above, some players like to play slots that have an ancient Egyptian theme for example. Others like Greek mythology, super heroes, pirates, dragons, Wild West or zombies.
Slot Providers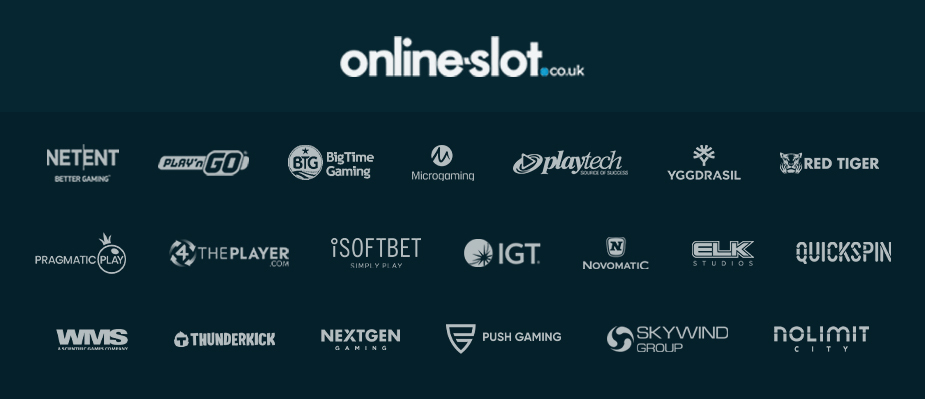 The online slots you see are made by slot providers or developers. These are companies who produce slot games basically. With thousands of online slots to choose from, there are over 100 slot developers that are well-known with more launching all the time.
At Online-Slot.co.uk, we provide reviews of slots from over 50 providers. With new slots available daily, the big providers release new titles on a weekly, bi-weekly or monthly basis. The most popular providers include:
Online Slot Reviews
We at Online-Slot.co.uk provide detailed slot reviews. Our aim is to provide an in-depth look at all aspects of a slot game so you can play the game that's right for you. Here's what we look for:
Details & Stake Limits: we look at the number of reels, paylines, how much you can spin for, the RTP, and the variance. We also look at the max win potential and what is needed to win that amount.
Theme/Graphics: we look at how the slot looks graphically, the soundtrack, symbols on the reels and what devices you can play on.
Bonus Features: we look at the extras on offer like free spins, wild symbols and engine/mechanics.
Analysis: we summarise the slot and compare to similar games or better ones if needed. We look at the overall playing experience and whether it's recommended or not.
If you want more details on our slot reviews, check out how we rate slots which specifies all the criteria and metrics. This section also takes a look at how we review casinos.

Free Online Slots
Playing slots online is what we all love. However, would you buy a car without taking it for a test drive? At Online-Slot.co.uk, we give users the ability to play slots for free. This allows users to sample the slots before playing for real money and get a feel for how the game works.
With our free demo slots, you can see the graphics and animations, try the bonus features and make your mind up before you play at an online casino of your choice. Just spin away until you're happy to go and play at our recommended casinos.
UK Age Verification

In the UK, the Gambling Commission requires that players verify their age before playing a slot for free or for real money. This means that portals like Online-Slot.co.uk add age verification to all slots.
Being responsible, Online-Slot.co.uk was the first site to implement age verification in the UK. We teamed up with AgeChecked to do this and the process couldn't be simpler. Fully anonymous, they offer a number of ways to verify your age:
| | |
| --- | --- |
| Electoral Roll | Enter your personal/address details |
| Driving License | Enter your personal details + driving license number |
| Credit Card | Enter your card details |
| UK Mobile | Enter your email address + mobile number |
This process is free and only needs to be done once. You can create an AgeChecked account which makes it easier if you ever use it in future. Remember that your details will not be stored or shared as they will only be used for verification purposes.
Mobile Slots
Online slots nowadays are available to play across multiple devices including laptops, PCs, smartphones and tablets. With the rise of the use of mobile phones, all slot games are mobile slots meaning they can be played on a range of handheld devices that use iOS, Android or Windows operating systems.
Some slot providers like ELK Studios are mobile-first meaning they create slot games with mobile users as their priority. Developer 4theplayer has taken things further with the creation of Portrait Mode. This allows players to view the slot in portrait mode on their mobile and occupy 60% of the screen rather than the average 20%.
All slots found here at Online-Slot.co.uk can be played on mobiles and tablets. The demo versions are also multi-device. Furthermore, all sites recommended are UK mobile casinos meaning you can enjoy on the go.
No Deposit Slots (UK)
With online slots being the most popular to play at online casinos, the latter offer promotions and offers for their players. The rise of no deposit slots in the UK has been evident in recent years.
There has also been a significant rise of the no wagering casino bonus which comes in the form of free spins on particular slot games. Casinos such as LeoVegas and NetBet have been known to give away free no deposit bonuses or free spins to use on popular online slots. In most casinos, no deposit slots include NetEnt's Starburst or Play 'n GO's Book of Dead.
Online Slot Bonus
Online casinos offer bonuses to new and existing players. They are technically slots bonuses because wagering from slot games contribute 100%. Other casino games like blackjack and roulette don't count towards the wagering or contribute just 5% or 10%.
As slots are the most popular casino games and have a low RTP than the likes of blackjack, they are permitted for online casino bonuses. Slots with high RTP rates are normally excluded from wagering – such as Thunderkick's 1429 Uncharted Seas that has 98.5% RTP. Always read the Terms & Conditions of a welcome bonus prior to playing. Our detailed slot site reviews have all this information by the way.
Online Slots FAQs