Who invented the Megaquads mechanic?
Big Time Gaming (BTG) is the software developer that has created the Megaquads mechanic. The Australian firm has form for inventing game-changing technology. They were the brains behind the Megaways game engine which has been one of the biggest developments in the online slot world over the past few years.
The shape-shifting Megaways mechanic, where the number of symbols on reel varies with each spin, has proved enormously popular with players around the globe. Other developers have licensed the technology to create even more innovations. The combination of mystery transforming symbols, cascading symbols, multipliers and expanding reels that offer up to 1 million ways to win has proved a real winner.
Not a company to rest on their laurels, BTG haven't just sat back and counted their Megaways licensing royalties though. They also came up with the Megaclusters mechanic, taking elements of the classic cluster plays mechanic and adding even more layers of gameplay to provide even more exciting action.
When it comes to innovation and pushing boundaries, you won't find many better exponents than Big Time Gaming. And they're looking to repeat the trick with the launch of the Megaquads engine.
What is Megaquads?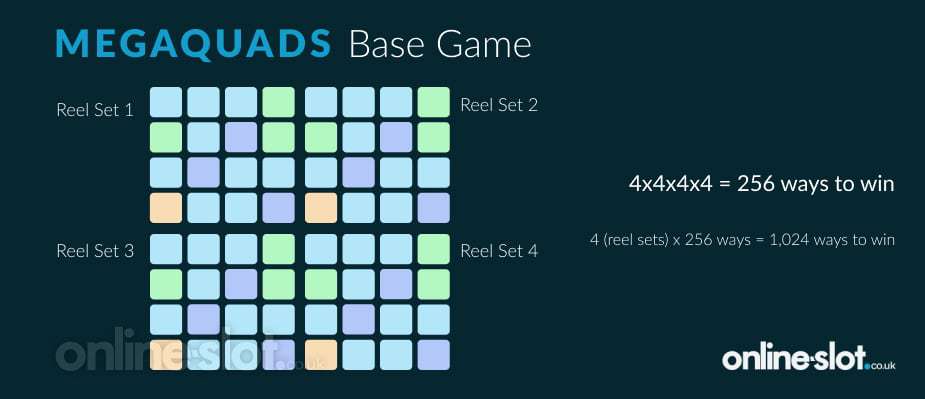 Megaquads is essentially a slot engine or mechanic. Slots that use it are a little unusual. There's a lot going on when you first open up a Megaquads slot and at first glance it can appear rather confusing.
The first thing you'll notice is that Megaquads slots are played using 4 different sets of reels. All 4 sets of reels are made up of 4 reels and 4 rows (you can see why they're called Megaquads) and they each offer 256 ways to win. Altogether, the 4 sets of reels offer 1,024 ways to win.
4 x 4 x 4 x 4 = 256 ways to win
4 sets is 4 x 256 ways to win = 1,024 ways to win
In effect, you're playing on 4 different machines from a single standard spin. To create a winner, land matching symbols or wilds on adjoining reels, starting from reel 1 on any of the 4 machines.
What makes Megaquads slots different?
We've seen plenty of slots that offer multiple reel sets. What makes Megaquads slots so different? We'll take Slot Vegas Megaquads as an example.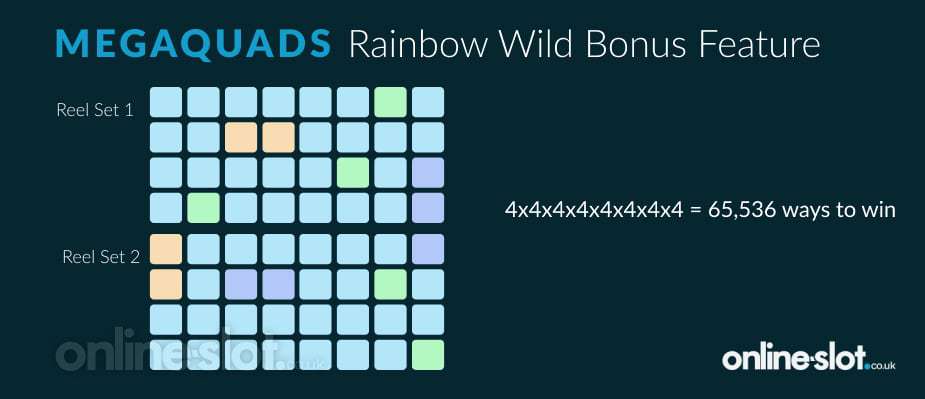 Slot Vegas Megaquads come with a feature called the Rainbow Wild Bonus feature. It's triggered by landing 2 Rainbow Wild symbols land next to each other horizontally across 2 sets of reels.
The 2 individual sets of reels then combine to create a single 8 reel slot. This massively increases the number of ways to win. Instead of having 256 ways to win, you'll have 256 multiplied by 256 which gives an enormous 65,536 ways to win.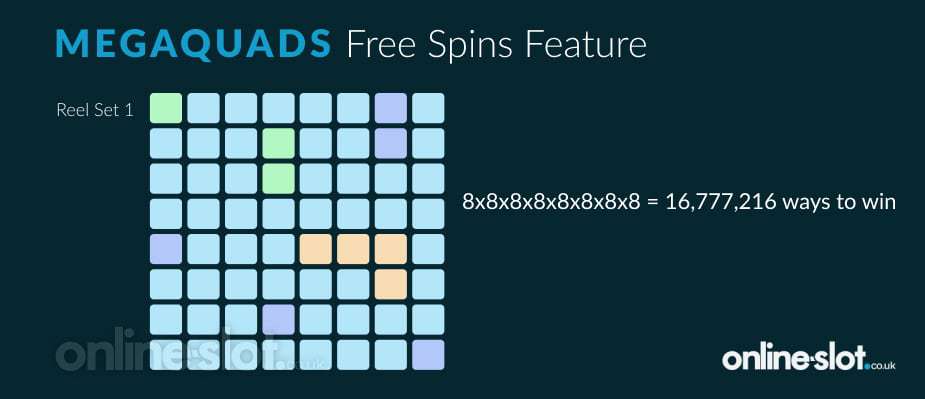 Things can improve still further in the Free Spins feature in Slot Vegas Megaquads. The set up here is slightly different than in the base game. The 2 sets of reels on the left hand-side of the screen merge vertically to create a single 4 reel, 8 row machines that offers 4,096 ways to win. The same happens with the 2 sets of reels on the right-hand side of the screen.
Land the Rainbow Wilds next to each other on both machines during the free spins and they will merge to create a single 8×8 machine that offers a mind boggling 16,777,216 ways to win (4,096 x 4,096 = 16,777,216 ways to win)
With so many potential ways to form a winning combination, it's easy to see why the Megaquads mechanic could be such a game changer. The massive number of ways to win is of course the main attraction to Megaquads slots. It's not the only aspect that makes them worth a spin though. As usual, Big Time Gaming has added some other goodies to ramp up the excitement still further.
First Megaquads Slot

Released in September 2020, the Slot Vegas Megaquads slot game was the first title to use this innovative game mechanic. We expect it will form the basis of future Megaquads slots. With that in mind, it's worth taking a closer look at what this game offers. First, a quick recap of the game engine. We've covered it above but it bears repeating as it really is so unusual.
The base game action plays out on 4 separate 4×4 grids that each offer 256 ways to win. Landing special wilds in 2 slots that are next to each other triggers the Rainbow Wild Bonus feature. These 2 sets of reels merge to create an 8 reel, 4 row machine that creates 65,536 ways to win. That makes it possible to create 8-symbol winning combinations.
Trigger the Rainbow Wild Bonus feature during the Free Spins feature and the 2 sets of 4×8 reels that each offer 4,096 ways to win merge to create a grid that offers an enormous 16,777,216 ways to win. Got it?
Gold Wild Multiplier feature
Like BTG's Megaways slots, multipliers are a key plank of Slot Vegas Megaquads. The base game action starts with a 1x multiplier active. Each time you form a winner made up of 4 or more diamonds or 1 of the red, green or blue lucky 7s, it increases a multiplier which is applied each time you land a winner made up of that symbol. The more symbols in the winning combination, the more the multiplier increases. An 8-symbol win boosts the multiplier by 5x, for example.
You can keep tabs on these multipliers in the meters to the left of the reels. The values of the multipliers are totalled to give you a starting multiplier when you trigger the Free Spins feature.
Free Spins feature
The Free Spins feature in Slot Vegas Megaquads is triggered by landing 4 or more scatters on the same spin across all 4 of the reel sets. They don't all have to be on a single set of reels. You'll receive 6 free spins, plus 3 more for every additional scatter. The expanding multipliers for the diamond and lucky 7 symbols are active during the feature too.
Design
One area where it could be argued that BTG's Megaways slots are a little wanting is in their design. They've kept to the same simple, colourful formula in Slot Vegas Megaquads. The reels are made up of royal symbols plus the lucky 7s. It's rather basic but does the job. There's a madcap country and western version of 'She'll Be Coming Round the Mountain' blasting away which, let's be generous, and say is something of an acquired taste.
High Variance, RTP + Max Win
If you like high variance gameplay, you won't be disappointed at what Slot Vegas Megaquads has to offer. This is a very volatile slot which is no surprise given that in the bonus round you could be playing on reels with over 16 million ways to win. The RTP is 96.59% which is high and the stake levels range between 20p and £20 a spin. The max win is 25,200 x stake per free spin.
With the cracking game mechanic, free spins and multipliers there's plenty to get stuck into in Slot Vegas Megaquads. For a first attempt, it offers plenty of potential.
Megaquads Mobile Slots

4 sets of reels on a mobile slot? That's not going to work is it? Surely it will be cluttered and you won't be able to decipher the symbols? Think, again. As we've come to expect from BTG,
they've put plenty of effort
into making the Megaquads mobile experience a good one.
The innovative layout is in fact ideally suited if you're using an iOS, Windows or Android-powered smartphone. The HTML5 technology means that the layout adapts to the screen, fitting perfectly no matter what device you're playing on.
The quality of the graphics is as high if you're playing on a smartphone as it is on a desktop computer. You might not get the full cinematic soundtrack from a tinny mobile speaker but the imagery and animations should be top notch.
Going back to our example in the previous section, the Slot Vegas Megaquads mobile slot works superbly well. Everything is super sharp whether you've got the quartet of 4×4 reels active or you're playing the Free Spins feature with the Rainbow Wild Bonus feature live on the big 8×8 grid which offers over 16 million ways to win. The only difference is the multipliers are above the reels rather than alongside them.
In summary, Megaquads slots are suited to mobile play meaning you can play them on the go or away from your laptop or PC device.
Megaquads vs Quad Slots
Of course, BTG isn't the first developer first developer to use 4 different sets of reels in a single slot. Blueprint Gaming had a go themselves with Gorilla Gold Megaways. Other developers like Novomatic and Stakelogic have also tried to ramp up the action by bringing extra reels into play.
The big difference between these and Megaquads slots is that the reels in Megaquads have the ability to merge to create enormous grids with ways to win to match.
Take the Gorilla Gold Megaways slot from Blueprint Gaming for example which is very playable slot in its own right. It comes with the usual Megaways formula of cascading reels, mystery symbols, free spins and multipliers. There are 4 sets of reels in play here, each one offering 117,649 ways to win. Together that adds up to 470,596. The difference here is that the reels don't merge to create bigger sets. That's what's so revolutionary about Megaquads.
Likewise, the Quattro series of slots from Stakelogic. In games like Scrolls of Olympus, you'll have the chance to play with 1, 2, 3 or 4 sets of reels active. These spin independently of each other and don't offer the massive opportunities arising from merged reels. It costs extra to play 4 sets of reels here too. In Megaquads slots, the price per spin factors in the 4 sets of reels.
It's a similar story with Novomatic's 4 Reel Kings. The action is played using 4 different sets of reels with consecutive spins. Again, there's no chance to merge the reels and ramp up the ways to win here.
Future of Megaquads Slots
What next then for Megaquads slots? In Slot Vegas Megaquads, we've seen a very promising debut. If the soar away success of the Megaways mechanic is anything to go by, we expect to see BTG license the Megaquads format, allowing other developers to put their own unique stamp on the base technology.
Blueprint Gaming, iSoftBet, Red Tiger Gaming, NetEnt are among the software providers who have taken the Megaways mechanic and run with it to create even more innovation.
We'd hope that the same would happen with the Megaquads engine. It's early days yet of course but we expect to see plenty of exciting new Megaquads slots hit the virtual shelves of online casinos and slot sites over the coming months and years.
Megaquads Slots FAQs
What is Megaquads?
Megaquads is a revolutionary game mechanic. The action starts on 4 different 4×4 reel sets that each offer 256 ways to win. These reel sets can combine vertically and horizontally depending on the feature. If all 4 sets combine, you'll have 16,777,216 ways to win. For more info, find out how Megaquads slots work.
Who invented Megaquads?
Australian slot developer Big Time Gaming is the brains behind Megaquads. That name might sound familiar as BTG is also the creator of the all-conquering Megaways format which has proved so popular with slots players in recent years.
What was the first Megaquads slot?
Released in 2020, the super volatile Slot Vegas Megaquads was the first Megaquads slot. It comes with bright, bold design, a madcap soundtrack and of course, the 4 sets of reels. Also on offer are expanding multipliers, free spins and of course, the chance to play with 16,777,216 ways to win active.
Can you play Megaquads slots on mobile?
Yes, Megaquads slots have been fully optimised to play on all devices including smartphones, desktop and laptop computers as well as tablets. You might imagine the 4 sets of reels would be cluttered if you're playing on a small screen. In fact, the format works perfectly on a mobile device.