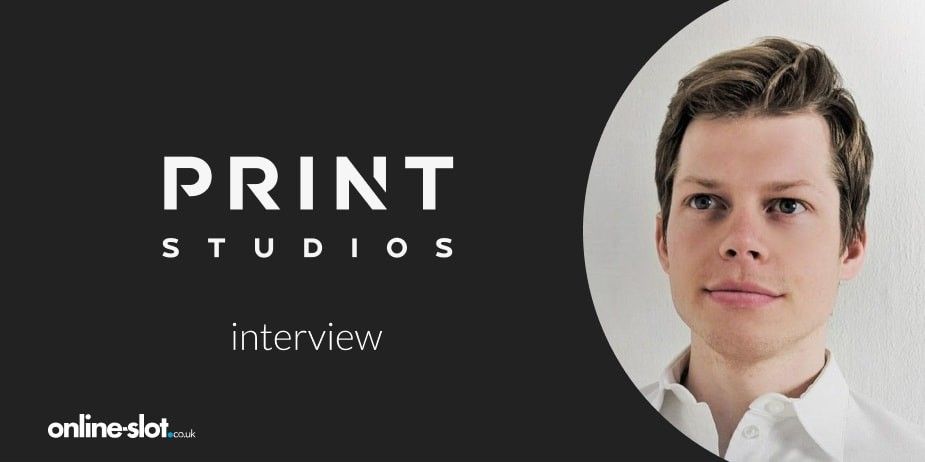 Our Chief Editor Chris Taylor spoke to Carl Wiggman, CEO at Print Studios in late October 2023. Based in Denmark, he was a product owner at Push Gaming and held various roles at the Kindred Group PLC (Unibet).
The interview with Carl focuses on Print Studios' journey to date, how they focus on quality over quantity, the SuperSpinners mechanic, the inspiration behind the Darkness slot, Royal Potato 2 and what to expect in future. Enjoy!
1. How did Print Studios come about and how has the journey been so far?
We were three founders, one of whom I met at University, the other in Kindred's London office where we all once worked. Having worked with or at various studios, I felt a need for a studio for people that hunger for more challenge. Too often did I see incredible talent pigeonholed into management positions just to get something out of their outsize performance.
Additionally, studios would make one great game for every 4 throwaways. The idea then was to make a team that may not have the capacity to make multiple games per month, but because of the experienced people involved, could make a no-holds-barred production every time. Since then we've been lucky to find like-minded people of exceptional skill that share our dreams of creating the greatest games ever.
2. Is Print Studios' aim to create unique slots? (i.e. Reapers)?
In a word, yes. As players ourselves, we don't see much point in recreating slots that already exist. Sometimes we get inspired by slots and try to improve upon them, but usually, we make unique stuff.
3. Is the focus more on quality over quantity unlike many of your competitors?
Yup. We're in a unique position with our small but talented team in that we can handle projects of pretty much any complexity, which means we can put more quality into each release. That comes at a cost of course, both in terms of production times, but also the amount of time it'll take the players to digest the game. Therefore, we feel 6 per year is a pretty good level.
4. How have SuperSpinner multipliers been received?
Pretty good I'd say, our latest two games with SuperSpinners scored 4.6 and 4.4 at Online-Slot.co.uk. As a game designer, it's a great tool for creating both stimulation and potential in the very foundation of the slot. For many games, Darkness being an example, we try the game both with and without SuperSpinners, and usually, it's more fun with them in.
5. With Halloween around the corner, we look at the Darkness slot – what was the inspiration?

Many things inspired me with the Darkness slot. There's something about walking around in a completely dark room, where you see there are things around you, but you can't tell exactly what. Then you turn on the lights and everything looks completely different to what you expected. I thought that phenomenon could be epic for a horror-themed slot, where scary stuff appears only when we win. We were also inspired by Wiccan rituals and horror movies like Hereditary and The Conjuring.
6. Royal Potato 2 has been very well received – can you tell us why potatoes and if will there be a 3rd instalment?

Haha – it's a bit too early to start thinking about a 3 I'd say, hoping to see more max wins off RP2 first. We even had a crazy €1m win last week and been a crazy launch. Potatoes because life is potato isn't it? Potato blood runs in our veins.
For more information and a free demo, check the Royal Potato 2 slot which includes a detailed review.
7. Will there be more Dream Drop slots in future?
Could be! It's a fun jackpot system that worked well for Pine of Plinko Dream Drop. Just got to find the right idea I suppose.
8. Have you seen a change in players' needs since Print Studios began?
Hmm, good question. The general trend always changes of course, and we're always making the next game with that in mind, sometimes to go with it, sometimes to go against it. Many things have changed of course, from fish games to multiple buy options to sweepstakes in the US, but at the end of the day, we stick to our ethos of making games that are fun not just 100 spins, but 10,000 spins.
9. What is your favourite Print Studios slot and why?
Eh, that's really hard to say, like naming your favourite child (I'd imagine). Honestly can't say I have a single favourite, I'm proud of all of them.
10. What are your favourite games from other providers?
Hard to say for a different reason, there are just so many good ones out there! Bonanza Megaways and Mega Joker are old-school favourites, Wild Frames is a banger too. I like what Crazy Tooth are tinkering around with, played some Apollo's Rings the other day, cool game!
11. Anything we should expect from Print Studios in the future?
Only the unexpected! Shoutouts to everyone following us on our journey, appreciate all the feedback wherever and whatever it is.