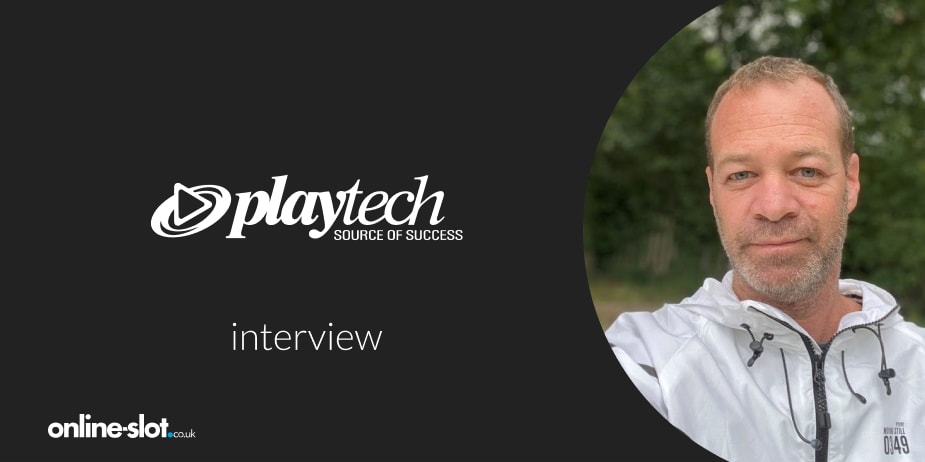 Chief Editor Chris Taylor from Online-Slot.co.uk spoke to Eran Gilboa, Head of Content at Playtech towards to end of summer. Based in Gibraltar, Eran has spent over 15 years at Playtech as a Product Manager, Game Producer and now Head of Content (the latter since April 2015).
The interview with Eran was regarding how 2022 went, their most popular slot games, the Age of the Gods series, jackpot wins and branded content. We also discussed Megaways, Fire Blaze slots, players' needs and the future. Enjoy!
1. How did 2022 go? 

It's certainly been a busy year when it comes to launches! Over the last 12 months, we've brought a wide range of new slots to the market – both new one-off games, and additions to our biggest suites, such as Fire Blaze, Cash Collect and Age of the Gods.
It's also been a year of innovation within brands; for example, the first Quattro format games for Fire Blaze and Cash Collect, Celtic Charm and Fire 4, seasonal content such as Football! Cash Collect, released in line with the World Cup, and twists on classic formats such as Buffalo Blitz: Mega Merge and Age of the Gods: King of Olympus Megaways.
We also launched our first "crash" style game in Q4 2022 in Circus Launch, which is a great fun twist on the traditional slot format. Whilst it's still very much a game of chance, it's up to the player to decide whether to take the win or risk it for a bigger multiplier – timing is definitely everything in this game!
2. What were the most popular slots of the last 12 months?

We've had some great launches, but I think the real standout performer has to be the Cash Collect suite. Sahara Riches, the first game in the series, was our top launch of 2021, and the momentum has really continued since, with Leprechaun's Luck (our big St. Patrick's Day launch) becoming one of the top new games of 2022. As mentioned, Football! Cash Collect also proved a great success, not just during the World Cup, but also on an ongoing basis.
When people think of Playtech games, Age of the Gods and Fire Blaze are the brands that immediately spring to mind, and I think Cash Collect is definitely up there with them now as a real player favourite. It's also the first time we've combined one of our in-house properties with external brands – The Walking Dead and Gold Rush have both been great additions to the series, with Gold Rush: Cash Collect winning the SBC Game Developers Award for Licensed Content.
3. Age of the Gods began 7 years ago: are they still as popular?

While terms like "evergreen" are overused in the Casino industry, I really believe it applies to Age of the Gods. I think we knew from day one that we had a great slots brand on our hands, but for it to be as popular as ever seven years on was beyond even my expectations. We've added some great games to the suite over the last year, including Age of the Gods: Helios and the sequels to God of Storms (Age of the Gods: God of Storms 3) and it's a brand I expect to remain a player favourite for years to come.
I think what players, and operators too, like about Age of the Gods is that there's always something different to come, whether that's feature innovation or in terms of volatility and the audience we're trying to attract. However, the core look and feel of the brand is something that unifies all the games, and I think players see it as a real mark of quality.
4. Do you plan to continue to add to the Age of the Gods series?
We're very much committed to the Age of the Gods suite, which stretches across several Playtech verticals. We've added more games this year, and we'll be continuing to do so in the future.
5. What are the biggest jackpots won on Age of the Gods slots?
The biggest ever single jackpot win on Age of the Gods was a €986,123.94 Ultimate Power Jackpot win in 2021. We've seen bigger wins on individual games – a €10.7m win on Jackpot Giant in 2018 being the biggest yet – but in terms of the overall suite, Age of the Gods is by far our biggest jackpot suite, with over €74m in winnings distributed during 2022.
Offering 4 progressive jackpots, the current Age of the Gods Ultimate Power Jackpot is .
6. Are there any more branded slots coming in the near future?

We're very much committed to branded slots, and we've seen some fantastic additions to the portfolio over the last 18 months, including The Walking Dead, Gold Rush and Rocky. Obviously, a lot of work goes into developing branded slots, and of course the partnerships behind them, but for the right licence, we're more than happy to invest that time and energy. We're also very keen to consider localised as well as global audiences when it comes to building brand partnerships, and this isn't necessarily exclusive to slots – we're also looking at the potential of branded card and table games.
With that in mind, I'm particularly excited to announce that we'll be launching the first-ever Breaking Bad slot in Q4. If you think about the iconic TV shows of the 21st Century, Breaking Bad would definitely be towards the top of the list for many – a rare example of a critical hit with a massive fanbase. As I said, choosing the right licence is crucial, and it's hard to imagine a brand that will resonate more with the core 25 – 49 Casino demographic. I also think it's ideally suited to a slot game format, which is sometimes a forgotten consideration.
It's the 15th anniversary of the Breaking Bad franchise this year, so it couldn't be a better time to launch. I think this is one players are really going to embrace; we're really excited to see the reaction.
7. Will you be using Megaways in more upcoming releases?
The partnership with Big Time Gaming has worked very well, with Megaways versions of some of our most popular slots proving very successful in their own right. We're looking at potential future Megaways releases, but we're careful to be selective – we want to make sure we achieve the right combination of brands, as we did with Age of the Gods: King of Olympus.
8. Will the Mega Merge mechanic be used in future slots?
It's early days for our first Mega Merge game, Buffalo Blitz Mega Merge, but player reactions so far have been very positive. While we don't currently have any more Mega Merge titles on our roadmap, I'm sure it's a mechanic we'll be revisiting in future.
9. Why do you think the Fire Blaze slots are so popular?
We hit on a great formula with Fire Blaze, which is essentially a combination of the familiar and the fresh. It's a strong, very distinctive brand, and we work hard to ensure that's maintained across each new release in the suite.
The Hold & Respin mechanic that's central to the series is easy for players to grasp, but offers great win potential too – you don't have to be familiar with the wider brand to quickly become engaged. At the same time, each game has its own unique theme and feature, so fans of the suite tend to come back for each new release. They can enjoy a style of gameplay they know they'll enjoy, but experience something different too.
We've put a lot of work into the Fire Blaze brand to make sure it stays exciting and fresh, especially with the development of the Mega, Golden and Quattro variants, and the high level of player loyalty is our reward. The next game in the suite, Piggies in the Bank, was released in August – it's a Mega Fire Blaze game and is great fun, with a very engaging stacked Wilds mechanic. There's a lot more to come for fans of Fire Blaze!
10. Have you seen a change in players' needs from previous years?
I don't know if it's so much a change in needs for players as a growing desire for variety. With games like Circus Launch, and the crash game format in general, we've seen that players are ready and enthusiastic to try out new mechanics. For many modern players, the desire for an engaging mechanic is as important, or more so, than big win potential – value for money in entertainment terms rather than high volatility. I think that's one of the reasons why the Cash Collect mechanic has proved so popular, and why we see such high levels of stickiness with those games.
There are more and more feature-rich slots in the market, and I think that's a great thing from an innovation perspective. Of course, it is possible to over-complicate things, and if players are confused about what it takes to win in a slot, we've gone too heavy on the features. There's definitely room in the market for simpler, classic slots. But that's actually all part of the desire for variety – and the beauty of our studio system is that we can deliver games with a wide volatility and complexity range.
11. What is your personal favourite slot and why?
After so many years in the industry (and as a player in general), it's very difficult to pick a single favourite. I always enjoy trying new games, but sometimes I'll go back to a classic I haven't played for ages. I'd say I tend to prefer higher volatility games, where you need to be patient to hit the big features; what we classify as a "Pursuit" game.
However, that's obviously not for everyone; some players enjoy the win itself rather than waiting for a bigger win, so will tend to go for games with smaller, but more frequent payouts. The beauty of our studio system is that we can produce a high volume of new games every year, so we can cater for different tastes with what we call "Engage" and "Balanced" (medium volatility) games.
Engage explanation: Lower volatility games offering smaller, but more regular wins, with a range of and/or frequently triggering features.
Balanced games explanation: Games with a more medium volatility feel, usually offering some feature variety and less frequent, but generally bigger, wins than Light games.
12. Anything we should expect from Playtech in the year ahead?
There's still a lot to come from Playtech Casino this year! As I've mentioned, there are some great additions to the Fire Blaze and Cash Collect suites coming up, plus some very exciting branded content. You can also expect some new additions to some of our newer suites, such as Gold Hit. But as always, the watchword for the next year will be innovation. There's always something new to come!