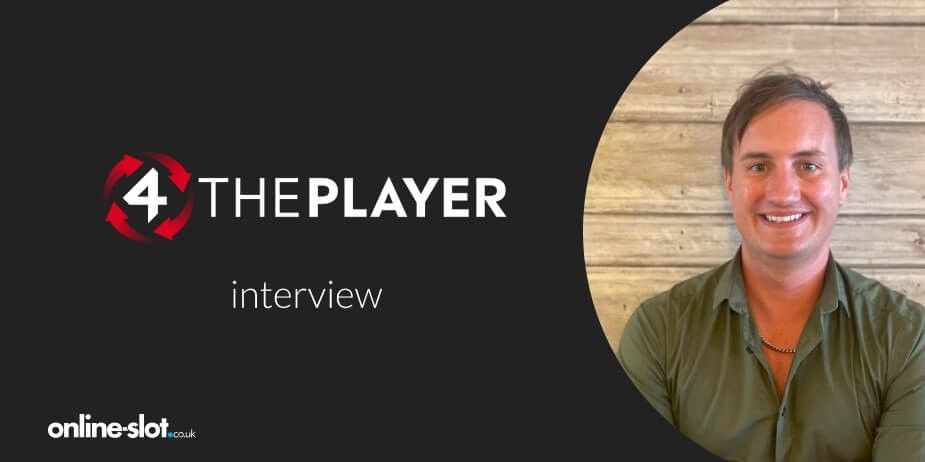 Chief editor Chris Taylor here at Online-Slot.co.uk spoke to Henry McLean who is Co-founder, Commercial and Marketing Director at 4ThePlayer. Working remotely in the UK, Henry has been in the online gaming space since 2010. He was Head of Product Marketing at Playtech for over 5 years and also worked as a Marketing Manager at Ash Gaming (which was acquired by Playtech).
We spoke to Henry/4ThePlayer about how 2022 went, what were the most popular slots, a €2.3 million win on their first jackpot slot, max win potential in slots and what to expect in 2023. Enjoy!
1. How did 2022 go? 
2022 was a great year for us! We released 8 awesome games and made our first entry into the US market with game launches in New Jersey and Michigan, plus we won a fair few awards including the EGR Award for innovation, beating some of the biggest game providers out there!
But the best part for me was the constant player feedback about how much they enjoyed playing our games and how they actively seek out our new content. We even had a casino come to us after players had specifically asked them for our games – what more could you want?
2. What were the most popular slots of 2022?

I'm proud to say we had quite a few popular titles last year, but our absolute top title was 4 Fantastic Fish! It was so popular that we've just released a sequel, 4 Fantastic Fish in Egypt, which ramps up the excitement in the land of Pharaohs.
The reason I think 4 Fantastic Fish is so popular is that we really listened to player feedback when we created it, fixing common player pain points and frustrations that they encounter in other fishing games.
Another standout hit was 4 Secret Pyramids, the BONUS↑UP mechanic continues to be popular as it's such an entertainment rollercoaster. If you are not familiar with the feature, there's a box above the reels that clearly tells you the potential of the next bonus – the longer you wait to get a bonus the better that potential becomes. Unlike a lot of episodic games, our BONUS↑UP games keep the same RTP on every spin which I think players have noticed, so they do return – even when they've reached the Gold Pyramid, they want to do it again.
7 Gold Gigablox is also one to mention – it's a derivative of 90k Yeti Gigablox, taking our learnings from that game and adding a player-favourite prize ladder feature at the side of the reels.  The ladder is super active, not a frustrating feature you can see but never get to enjoy.
Finally, I can't leave out 9k Kong in Vegas – what's not to love about this game? Kong is in Vegas with his mates, hanging out with flamingo singers and T-Rex Elvis. The game introduces our Big Win Repeater mechanic, which gives you an instant chance to double – or more – every big win, with all the fun of a gamble wheel where you can't lose your win!
3. Will there be any more Dream Drop slots following 5k Gold Mine Dream Drop?

We never say never! 5k Gold Mine Dream Drop is a great game and has gone down a storm with players. One player was lucky enough to win the MEGA jackpot winning €2,311,598 from a €0.60 spin! Watch the win below:
4. Will the Gold Rush Trail from 5k Gold Mine Dream Drop be used in future slots?
You have probably noticed that what we do is release a new mechanic and track its performance, engagement and feedback. If it hits the mark we will look at bringing it back, and if not we always take it back into the lab and see what we can learn and potentially adapt for another game. The trail is doing well, so there's a lot of potential to see what else we can do with it.
5. Will there be any slots in 2023 with huge max wins? Or are those days over?
Huge max wins are a very interesting topic and often split players into different camps. Some players really do not like games with crazy max wins as they see them as non-attainable, hogging RTP from more realistic wins, while the other camp loves the daydream "it could be me" potential.
Casinos also have business requirements around max wins – in a similar way to players, some love the headline prizes while others can be more cautious.
As a general rule, we try to cater for both with a varied roadmap containing some high max wins and some more conservative ones. One thing to point out though: the player is never disadvantaged on a lower max win game. If anything there might well be more opportunity to hit a larger prize!
6. Have you seen a change in players' needs from previous years?
It does depend on the market but mobile continues to dominate with only a very small percentage actually playing on desktop now.  This is where we have an advantage as we have our Big Reel Portrait Mode, which means you can play portrait on mobile and actually enjoy and see the experience!
The other difference I see is deeper player engagement and brand loyalty. We get a lot of player engagement and interaction via all mediums, asking us about the games we have just released or what's coming next. This trend has been growing and is one we love – we are here to talk to players and really enjoy doing so!
7. What is your personal favourite slot and why?
Anyone that knows me will know the answer to this: it's Siberian Storm by IGT. It's an old game but one I really enjoy playing, both land-based and online. Of course, my love for the game mainly stems from the fact I had a very big win on it years ago and still can remember the feeling!
If we are talking modern slots, I really enjoy Pine of Plinko Dream Drop by Print Studios – a beautiful game with solid exciting gameplay. It's great to see another startup studio trying new things like us.
8. Anything we should expect from 4ThePlayer in 2023?
2023 is shaping into a great year for us! We have just released our first game, 4 Fantastic Fish, into retail thanks to our collaboration with Reflex Gaming. We're going to follow up with 9k Yeti later in the year, so UK readers check out the machine in your local pub!
We also have some really exciting games, containing everything from woolly mammoths to the Norse god Thor and with some great new mechanics – proven ones such as Yggdrasil's DoubleMax and of course some 4ThePlayer firsts.
I can also give you some exclusive news: the Yeti is back again later in the year and it will be our first adventure into creating paylines games, a departure from our normal Ways Pays! Watch this space!