Virgin Casino are running a £10,000 Free Prize Draw promotion where you can win great Star Trek prizes including a £6,000 trip to the Star Trek Exhibition in Orlando, Florida.
The promotion is being run due to the launch of the Star Trek Against All Odds slot. There are 3 prize draws you can gain entry to. The first prize draw, and the most appealing, is a trip for 2 to the Star Trek Exhibition in Orlando, Florida (USA). If you don't fancy going to the Star Trek Exhibition, you could choose a £5,000 cash alternative instead. Anyway, if the trip sounds good, this is what you will win:
Flights to Orlando worth up to £3,500 (2 people)
6 Nights accommodation – total worth of £1,500
£1,000 Cash to spend
2 entrance tickets to the Star Trek exhibition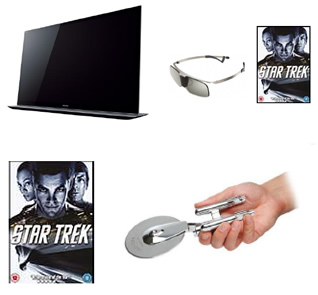 The second prize draw gives you the chance to win a Star Trek 3D TV package including a 40" 3D TV, 2 3D glasses and a Star Trek DVD. The cash alternative is £1,000. Even though the prize isn't as valuable as the first prize draw package, it's still pretty good!
Last but not least, the third prize draw will reward 50 lucky winners. You will win a Star Trek Night Combo with a Star Trek DVD and Star Trek Enterprise Pizza Cutter. Unfortunately there is no cash alternative here. The pizza cutter does look quite good though.
OK – taking part is simply and requires you to stake just £10 on the Star Trek Against All Odds slot game. This promotion doesn't end until the 25th of November so you have lots of chances to qualify. You can earn 1 entry per day you play the new slot game so get playing. Finally, you can only win 1 prize.
If you haven't got a Virgin Casino account, you can get up to £100 free when you join. Deposit from £10 to £100 and they will match your deposit 100%. Remember to click on the 'Select A Bonus' button and then select the 'Casino' option when you are signing up.
Play the Star Trek Against All Odds Slot to win great prizes & receive up to £100 Free at Virgin Casino