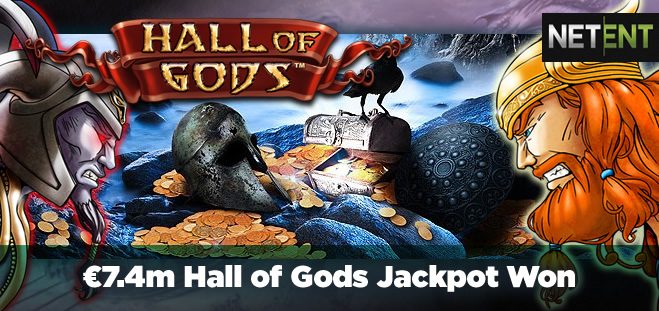 The Hall of Gods progressive jackpot was won last week by a Swedish player – the sum was a whopping €7.4 million and was Sweden's second largest online jackpot.
The jackpot was won a week ago (Monday the 3rd of June 2014) and the €7.4 million win was won by a 50 year old from the Värmland province in Sweden. This is the second largest ever online jackpot in Sweden. The amount is the 8th largest jackpot to be won this year with over €21.8 million won to date.
The winner has chosen to remain anonymous but he works for the council with disabled children. He says he loves going to work and contributing. He did say he might a little less now but wouldn't stop working even if he won a billion euros. He also commented:
"I'm a single parent with several children and I live in a small apartment. There's not much money left when the rent and the bills have been paid. Money is not everything, but this is wonderful for me. I have not been able to afford a car before, and now I can finally get one! I will also buy a house. Owning a house has been my dream ever since I moved to Sweden".
He also said that the very first thing I'm going to do is to buy a washing machine for my ex – the children's mother. It just broke and it causes problems in daily life. I'm buying her a flat screen TV as well, and tablets for the kids. I will help my relatives too – you have to be generous. But first and foremost, the money will be going to the kids".
Speaking of the €7.4 million win, Simon Hammon (Chief Product Officer at NetEnt) commented: "The jackpots just keep falling and it's an honour to announce that this latest one for Betsson.com is the second largest online Swedish jackpot. The 7.4 MEUR prize will change the life of the lucky winner and shows how much one can gain from our superb catalogue of pooled jackpots".
If you want to play jackpot slots and win life-changing amounts, I recommend you head to CasinoRoom – the instant play casino has over 200 slots including the infamous Mega Fortune by NetEnt and The Dark Knight by Microgaming which have £2.5 million and £4.18 million jackpots respectively.
Online-Slot.co.uk readers also get an exclusive 100% bonus up to £300 – deposit as little as £15 or as much as £300 to get a 100% match. Once you deposit, you will get £12 worth of free (120 free spins) on Starburst to use right away. Just enter the bonus code BONUSCR when you sign up.
Play Jackpot Slots at CasinoRoom & get an Exclusive 100% Bonus up to £300 + 120 Free Spins