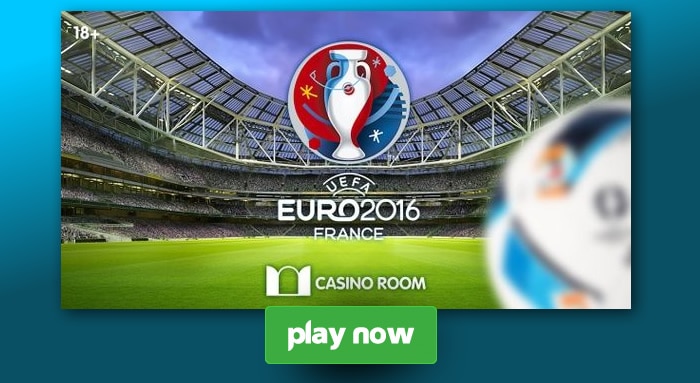 Euro 2016 is almost upon us and slots players can have an interest in all the football action from France this summer as well as a shot at winning some free spins thanks to CasinoRoom.
Make a bet of at least £10 at CasinoRoom using the team you think will win Euro 2016 as the coupon code. Rather than just handing out a uniform number of free spins to each player, CasinoRoom is spicing things up a little – pick a favourite who goes on to win and you'll end up with a decent number of free spins. Choose an unfancied team which goes on to do a Greece or Denmark and the number of free spins awarded will rocket.
For example, if you use the code Germany and Jogi Louw's team lift the trophy, 20 free spins await. Pick rank outsiders Northern Ireland and you could be looking at a bumper haul of 300 free spins. The full list of runners and riders, complete with the all-important coupon code is as follows:
France (FRANCE): 30 Free Spins
England (ENGLAND): 60 Free Spins
Portugal (PORTUGAL): 60 Free Spins
Poland (POLAND): 70 Free Spins
Wales (WALES): 80 Free Spins
Sweden (SWEDEN): 80 Free Spins
Slovakia (SLOVAKIA): 100 Free Spins
Hungary (HUNGARY): 150 Free Spins
Germany (GERMANY): 20 Free Spins
Belgium (BELGIUM): 30 Free Spins
Croatia (CROATIA): 40 Free Spins
Russia (RUSSIAF): 70 Free Spins
Turkey (TURKEY): 100 Free Spins
Iceland (ICELAND): 150 Free Spins
Republic of Ireland (ROIRELAND): 100 Free Spins
Northern Ireland (NIRELAND): 300 Free Spins
Spain (SPAIN): 40 Free Spins
Italy (ITALY): 40 Free Spins
Austria (AUSTRIA): 80 Free Spins
Switzerland (SWITZERLAND): 70 Free Spins
Ukraine (UKRAINE): 90 Free Spins
Czech Republic (CZECHR): 100 Free Spins
Romania (ROMANIA): 150 Free Spins
Albania (ALBANIA): 200 Free Spins
You have until 8pm UK time on Thursday the 10th of June (2016) to make your deposit and pick your team. All free spins will be awarded on the Net Entertainment-powered sci-fi classic Starburst and will be paid out within 72 hours of the competition finale.
There are some great offers on offer to new arrivals at CasinoRoom who can help themselves to 20 no deposit free spins (on Starburst). Then there's a 100% first deposit bonus up to £500 as well 180 additional free spins on Starburst once you deposit.