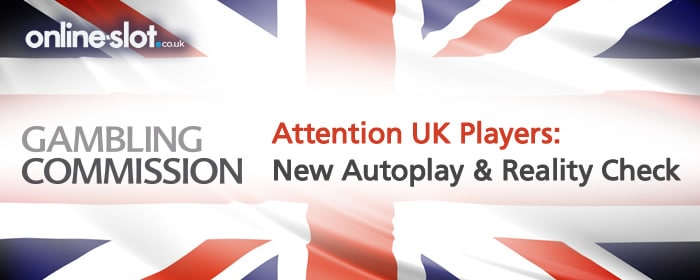 Playing slots online may be second nature to you but the UK Gambling Commission is implementing new regulations to ensure you play safer and smarter. You will see these new measures being introduced at all UK licensed online casinos very shortly – some have already implemented them.
Whilst playing your favourite slot games online is fun and sometimes hugely rewarding, the UK Gambling Commission are in place to ensure responsible gambling and implement measures to keep your activity as pleasurable as possible ensuring that you don't incur problems down the line (like addiction etc).
As a result, new autoplay and reality checks have been introduced – all slots will soon have (some already do) have these measures with details highlighted below:
Loss Limit
You can set a limit of how much you are happy to lose. If you were to set your limit at £200 for example, your autoplay activity will stop once you've lost this pre-determined amount. This helps control how much you lose and makes you think about how much you've lost before you chase your losses or lose more than you're comfortable with.
Single Win Limit
Your autoplay activity will stop when you hit a win equal or higher than the pre-determined limit you set. For example, if you're happy with a £100 win from a single spin, your autoplay will stop if you equal or succeed this. Again, this measure makes you think about your big win encouraging you to cash out and use those winnings wisely instead of blowing it.
Jackpot Win
When playing in autoplay, and you hit a jackpot, the game will stop giving you time and the chance to think about what to do with your winnings. As with the single win limit, you get to think about what you could you use the jackpot win for thus encouraging you not to lose it all.
Reality Check Interval
Before you start playing, a pop-up will appear on your desired slot game making you determine how long you want to play for. You can select up to 120 minutes (or 2 hours). This gives players the choice of how long to play for so that you don't get hooked and play for hours on end will can lead to losses.
Bell Fruit Casino are the first online casino we've come across that have implemented these new measures – if you choose the autoplay function on any of their slot games, you also have to determine how many spins you play (in autoplay). Once this or any of these measures outlined above have been reached, you will see the same pop-up again prompting you make a decision again.
These measures only help you play more responsibly in my opinion – whilst it may be a little inconvenient to do this, it's for your own good. LeoVegas Casino have also implemented these measures on some of their slots – the ones that need to do is are the software providers and LeoVegas have quite a few so it will take some time.
I hope these new regulations don't deter you from playing your favourite games online – it surely won't stop me as I think these measures are a positive thing. In the meantime, check out the hundreds of slots we've reviewed here at Online-Slot.co.uk by checking out our Online Slots section.