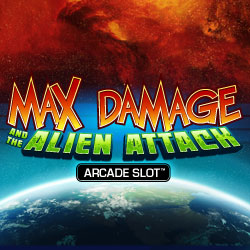 32Red Casino has launched Max Damage Alien Attack – the arcade game is powered by Microgaming and has taken slots to a whole new level (apparently).
The new Max Damage and the Alien Attack game is based on popular retro arcade games and reminds me of the games I used to play on the Commodore 64! The game has 9 levels, 3 boss ships and has a vertical screen layout. According to the official press release, it ensures that "every attack on the invading life form is enhanced by premium graphics, high quality sound effects and top level gaming power".
When you play the game, you have 6 lives to work your way through the levels. Bets are placed and points are awarded according to how many aliens you destroy. Enemy spacecrafts can fly at your shop individually or in a formation to jeopardise one of your lives. There are Freebies, Boosters and Upgrades available to players to help you defeat the assailants and increase your chances of winning a cash prize.
The Freebies include Missiles, Wormholes and Nukes. Boosters can give you enhanced Life, Health and Shield levels. You can also earn a place on the game leaderboard too with inter-player competition. Speaking about Max Damage and the Alien Attack, the CEO of Microgaming Roger Raatgever commented:
"Max Damage and the Alien Attack is a radical departure from the conventional slot format and we're very excited about the potential for this new arcade-style game. At Microgaming we're always looking for new ways to produce innovative content, so this move into a whole new style of game is particularly important to us. Fans of retro gaming will not be disappointed, while the top quality graphics are sure to please the whole spectrum of players".
Microgaming will be developing a series of arcade-style games with Max Damage and the Alien Attack being the first. You can win up to 10,000 coins if you destroy an alien and up to 110,000 coins if you kill one of the big bosses at the end of levels 3, 6 and 9. Here is a video preview of the game:
[youtube]http://youtu.be/3BWM3KDtr6E[/youtube]
Not played at 32Red Casino? They've just introduced a 320% welcome bonus for UK players. For every £10 you deposit, you will get £32 free up to £160. So if you want £160 free, you would only need to deposit £50. They have over 450 casino games with a top quality slots offering – these includes games such as The Dark Knight, Immortal Romance and the cult Thunderstruck II.
Play Max Damage & the Alien Attack & get £32 Free for every £10 you deposit up to £160 at 32Red Casino