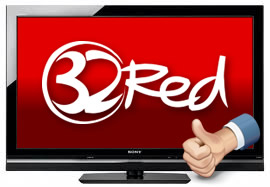 32Red Casino helped an elderly and disabled customer when he was burgled last week – this act of kindness shows the true nature of the online casino.
The customer, who goes by the name of 'Satty' on the Casinomeister forum, posted on the boards that burglars broke into his home and stole his television as well as his wheelchair. Luckily, they didn't manage to take his laptop as he'd taken it to bed to play at 32Red Casino. His post on the forum read (pardon the spelling):
"i got burgled a few days ago..i dont have much to take but they took anything of any value..not being insured it is a huge kick in the balls
thankfully id taken my laptop to bed with me for a session on 32red..guess some good does come out of gambling ..although it was a loosing one it saved my laptop lol….
i will have to stay out the casinos for a while now and use the money to start replacing those that were stolen..will miss my daily sessions
has humanity really stooped so low these days to burgal those that cant defend themselfs..wheelchair or no wheelchair id still like 5 mins alone in a room with them …
sorry for a bit of a ramble..feeling kinda violated by the whole thing really"
As you can see, 'Satty' was uninsured and hence had no way to replace his television. On Monday morning, 'Satty' received a bonus from 32Red Casino like none he's ever received before. He received a brand new 32 inch television on Monday morning – this was sent by sales manager Mark Quayle and the management team at 32Red Casino.
'Satty' was obviously delighted with this extreme goodwill gesture from 32Red Casino and posted the next day:
"as some of you are aware i was burgled last week and lost everything , and with being uninsured it was a devastating blow
im also disabled and stuck at home so the loss of my possesions is something that will take an age to replace..
this morning there was a knock on the door and stood there was a delivery man with a new tv , i was rather dumbstruck as it was in my name but id certainly not ordered it ..
the tv came via mark & 32red ..this is the most amazing act of kindness…and i wish i had the words to explain how touched i am by this
words really do fail me at the moment …so many thanks to mark
im so choked up and touched by it"
32Red Casino was voted the Casino of the Decade by CasinoMeister and have won the Casino of the Year award 9 years running – they are truly a special company as they care about their customers in more ways than the obvious.
We highly recommend them due to their service, ethics, great slots and customer focus. They offer a £32 no deposit bonus to start with – just register, enter your card details and within 15 minutes, you'll have £32 to play with – this is only open to UK players though.
If you want a deposit bonus, you can get £32 free for every £20 you deposit – up to £160. If you deposit the maximum £100 (for the bonus that is), you will get £160 free. In terms of slots, they use Microgaming software so offer slot games such as Thunderstruck II, Immortal Romance, Tomb Raider Secret of the Sword and Hellboy amongst many more.
Sign up to 32Red Casino & get a £32 No Deposit Bonus as well as up to £160 Free